Fast, junk, processed — when it comes to American food, the country is best known for the stuff that's described by words better suited to greasy, grinding industrial output. But citizens of the USA have an impressive appetite for good stuff, too.
To celebrate its endless culinary creativity, we're throwing our list of 50 most delicious American food items at you. We know you're going to want to throw back.
Ground rules: acknowledge that even trying to define American food is tough; further acknowledge that picking favorite American items inevitably means leaving out or accidentally overlooking some much-loved regional specialties.
Now get the rubber apron on because we're going first. Let the food fight begin:
50. Key lime pie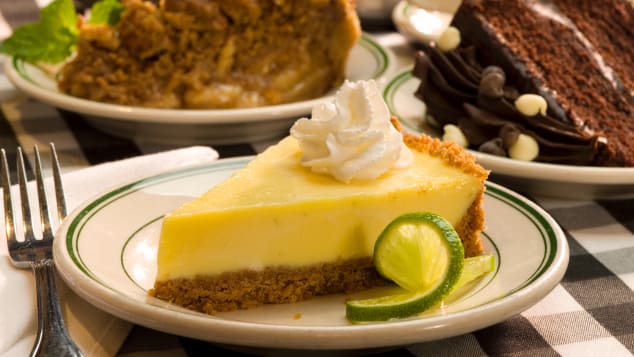 Courtesy Joe's Stone Crab Restaurant
If life gives you limes, don't make limeade, make a Key lime pie. The official state pie of Florida, this sassy tart has made herself a worldwide reputation, which started in — where else? — the Florida Keys, from whence come the tiny limes that gave the pie its name.
Aunt Sally, a cook for Florida's first self-made millionaire, ship salvager William Curry, gets the credit for making the first Key lime pie in the late 1800s. But you might also thank Florida sponge fisherman for likely originating the concoction of key lime juice, sweetened condensed milk, and egg yolks, which could be "cooked" (by a thickening chemical reaction of the ingredients) at sea.
49. Tater tots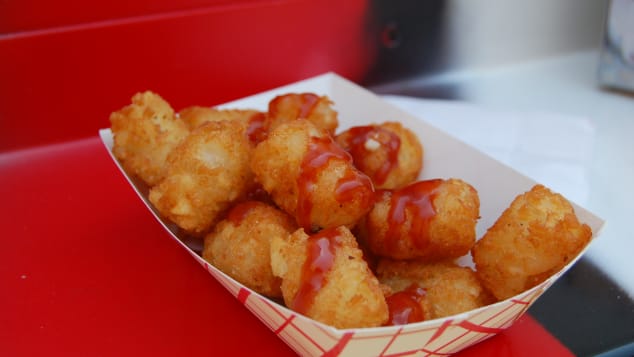 Courtesy stu_spivack/Creative Commons/Flickr
We love French fries, but for an American food variation on the potato theme, one beloved at Sonic drive-ins and school cafeterias everywhere, consider the Tater Tot.
Notice it often has the registered trademark — these commercial hash brown cylinders are indeed proprietary to the Ore-Ida company. If you'd been one of the Grigg brothers who founded Ore-Ida, you'd have wanted to come up with something to do with leftover slivers of cut-up potatoes, too. They added some flour and seasoning and shaped the mash into tiny tots and put them on the market in 1956. A little more than 50 years later, America is eating about 32 million kilos of these taters annually.
48. San Francisco sourdough bread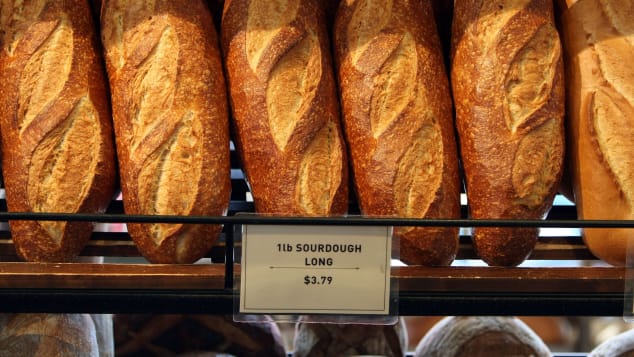 Justin Sullivan/Getty Images North America/Getty Images
Sourdough is as old as the pyramids and not coincidentally was eaten in ancient Egypt. But the hands-down American favorite, and the sourest variety, comes from San Francisco.
As much a part of NoCal culinary culture as Napa Valley wine, sourdough bread has been a staple since Gold Rush days. Once upon a frontier time, miners (called "sourdoughs" for surviving on the stuff) and settlers carried sourdough starter (more reliable than other leavening) in pouches around their necks or on their belts.
Thank goodness that's not the way they do it at Boudin Bakery, which has been turning out the bread that bites back in the City by the Bay since 1849.
47. Cobb salad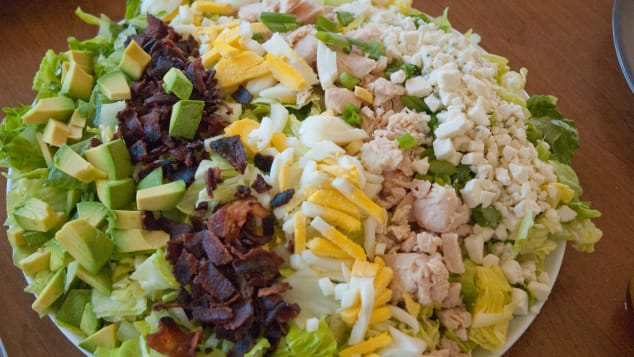 Courtesy Jodimichelle/Creative Commons/Flickr
The chef's salad originated back East, but American food innovators working with lettuce out West weren't going to be outdone.
In 1937, Bob Cobb, the owner of The Brown Derby, was scrounging around at the restaurant's North Vine location for a meal for Sid Grauman of Grauman's Theater when he put together a salad with what he found in the fridge: a head of lettuce, an avocado, some romaine, watercress, tomatoes, some cold chicken breast, a hard-boiled egg, chives, cheese, and some old-fashioned French dressing.
Brown Derby lore says, "He started chopping. Added some crisp bacon, swiped from a busy chef." The salad went onto the menu and straight into the heart of Hollywood.
46. Pot roast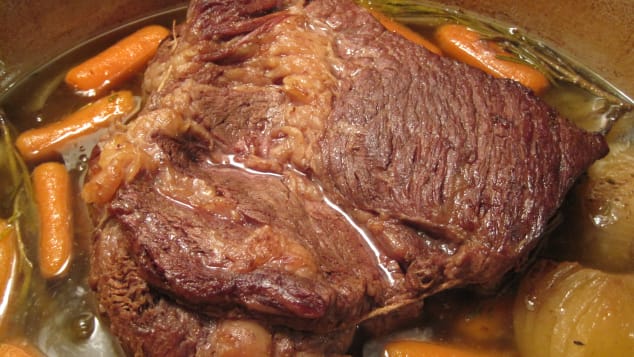 Courtesy Kim/Creative Commons/Flickr
The childhood Sunday family dinner of baby boomers everywhere, pot roast claims a sentimental favorite place in the top 10 of American comfort foods. There's a whole generation that would be lost without it.
Beef brisket, bottom or top round, or chuck set in a deep roasting pan with potatoes, carrots, onions, and whatever else your mom threw in to be infused with the meat's simmering juices, the pot roast could be anointed with red wine or even beer, then covered and cooked on the stovetop or in the oven.
45. Twinkies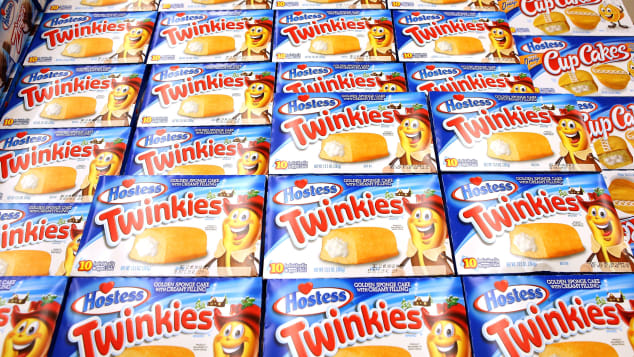 Scott Olson/Getty Images North America/Getty Images
Hostess' iconic "Golden Sponge Cake with Creamy Filling" has been sugaring us up since James Dewar invented it at the Continental Baking Company in Schiller Park, Illinois, in 1930.
The Twinkie forsook its original banana cream filling for vanilla when bananas were scarce during World War II. As if they weren't ridiculously good enough already, the Texas State Fair started the fad of deep-frying them.
Dumped in hot oil or simply torn from their packaging, Twinkies endear with their name (inspired by a billboard advertising Twinkle Toe Shoes), their ladyfinger shape (pierced three times to inject the filling), and their evocations of lunchtime recess. They were temporarily taken off the shelves between November 2012 to July 2013 — when Hostess filed for bankruptcy. Now they are back and going strong.
Readmore……